When you're standing on the outdoor platform of our Polar Rover, the chill Arctic air feels invigorating. But not as much as the sight of the huge polar bear ambling toward us. Sometimes they are silhouetted against the horizon, slowly moving shadows on the vast expanse of tundra. Other times, one may wander up directly below. Safely elevated, you're nonetheless just feet away as you look down on his shaggy, cream-colored bulk. Noticing us, he stops, sniffs and turns his face our way, curious. We grin with delight. The big bear rises on his haunches to peer at us more deliberately. We watch in wonder. Minutes go by, perhaps an hour, who knows? Out here among the bears, time stands still. Join us for one of nature's most wondrous wildlife encounters—no one does it better than Nat Hab.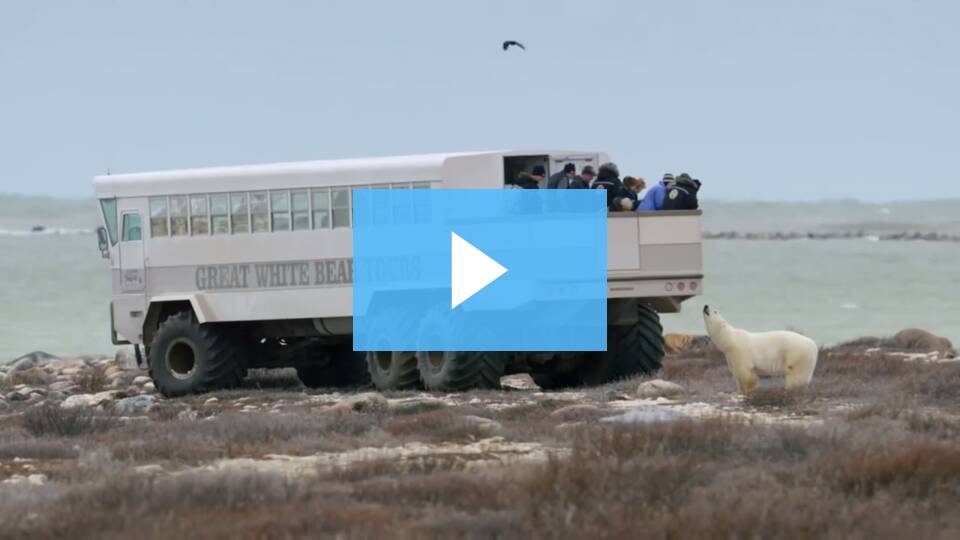 There is a Difference in Polar Bear Tours—Choose Wisely!
We know that most travelers who come to see the polar bears of Churchill will do so just once in their lives. For that reason, we promise you will enjoy the highest-quality polar bear trip available! Here's why our polar bear adventures stand apart from the rest:
We Hold Exclusive Permits for the Best Bear Viewing Area
Just two polar bear tour operators in Churchill hold exclusive permits to access the full range of the Churchill Wildlife Management Area where the best—and often only—polar bear viewing occurs. Naturally, the Nat Hab/Great White Bear team possesses one of these permits. Those who don't can only offer trips aboard school-bus-style vehicles along the road to Halfway Point, which is, as the name implies, only halfway to the prime polar bear-viewing area. If you're going to Churchill just once in your life, make it a complete experience!
Our Polar Rovers are the Most Impressive Vehicles in the North
The original tundra buggy designed for polar bear viewing was invented in the 1980s, an innovative concept that has since been substantially improved upon. Our partner in Manitoba, a world-renowned specialty vehicle designer, has created the world's premier tundra vehicle—the Polar Rover—which we operate exclusively in Churchill. Its innovative drive train allows us to traverse the tundra with virtually no chance of breakdowns. With the advanced elite suspension system that smooths the ride, plus on-board flush toilet facilities, our guests enjoy a superior level of comfort and safety.
Steel Mesh Flooring Offers Close-Up Bear Observation
Built into the rear viewing platform of every Polar Rover is an innovative and exclusive feature we've pioneered for optimal polar bear viewing—corrugated steel-mesh floors that facilitate remarkably close encounters with curious bears that sometimes wander beneath our vehicles!
T
he Smallest Groups Ensure the Best Nature Adventures
A fundamental element of the best polar bear expedition is a small group. It may cost a little more, but considering the hugely superior experience, we know it's well worth it. By limiting our groups to approximately 16 guests (even though our Polar Rovers hold more than 30 passengers), we ensure plenty of space aboard our vehicles, room to angle for the best photos, and a window seat for all.
Private Chartered Planes Maximize Time with the Bears
So we don't waste time dealing with airline schedules and airport security screenings, we charter our own aircraft to fly directly between Winnipeg to Churchill at a time that's most convenient for us. We know you'd rather spend your time watching polar bears rather than sitting around airports.
Sled Dog Experience Included on Every Departure
Every one of our Churchill tours includes a personal visit with a local dog musher and his team, and a ride through the boreal forest behind a team of sled dogs. Earlier in the season, if there isn't sufficient snow cover, the dogs pull us in a wheeled cart. But whenever you come to Churchill, this authentic northern adventure is part of your experience.
Special Photography Departures Spend Three Full Days on the Tundra
If you're especially interested in polar bear photography, choose a Photo Tour: Our custom Polar Rovers get us in prime range of our subjects, and photo departures spend three full days roving the tundra in search of bears and other Arctic wildlife, with expert photography coaching from our Expedition Leader.
The Finest Naturalist Guides on the Planet
Natural Habitat Adventures is known for employing the highest-quality guides in the industry. Our Polar Bear Expedition Leaders—who have been guiding bear tours for an average of more than 10 years each—receive additional training and resources from WWF's top scientists, ensuring a superlative interpretive experience. Expedition Leaders meet you in Winnipeg and travel with the group the entire way, sharing their wealth of knowledge and insight at every turn. On our special photo departures, guides are professional photographers with extensive experience photographing polar bears and other Arctic wildlife—and they're constantly by your side to share their knowledge. Our philosophy is pretty simple: a nature adventure is only as good as the guide, so we simply must provide the best! See Expedition Leader bios with traveler comments regarding the quality of our leaders.
Local Cultural Interactions Enhance Our Adventures
Through years of developing close relationships with local people, we are able to offer our guests exclusive opportunities to meet revered elders of First Nations, Inuit and Metis cultural groups in Churchill. These storytellers are some of the most senior in their communities, passing on their knowledge of the past to younger generations and also to our travelers.
Our Quality-Value Guarantee Ensures Your Special Polar Bear Experience
Natural Habitat Adventures offers an exclusive guarantee, clearly stating that we will meet the lofty expectations we set in our promotional materials. To our knowledge, this is the most ambitious guarantee made by any adventure travel company. Read our important promise.
Feel Good About Your Carbon-Neutral Journey
We care deeply about our planet, as we know you do. When you travel with us, the carbon emissions from your trip are 100% offset—including your round-trip flights from home. Natural Habitat Adventures has been the world's first carbon-neutral travel company since 2007.
Natural Habitat Adventures is WWF's Travel Partner
Because of our commitment to environmentally friendly travel, as well as the exceptional quality of our adventures, World Wildlife Fund, the world's leading environmental conservation organization, has named Natural Habitat Adventures as its worldwide travel partner, a designation that makes us exceedingly proud!
Contact us for pricing and more information